on October 31st, 2006
The old TV Room is starting to take on the new shape of a home cinema, new flat panel or not.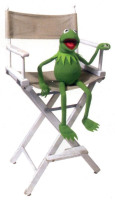 I arrived home yesterday evening and I immediately knew something was amiss. The inner, airlock, front door was open. The outer door was closed but the inner one wasn't. I never leave it like that – it rather defeats the object of the door! I immediately knew what must have happened (and I really must get my surveillance cameras back up and running!) I rushed to the TV Room and, sure enough, the house elves had done some work. My old futon had been raised up on two parallel blocks, one along each side under the feet, and a long foot step along the front added so people don't have to jump up into the seat and have their legs dangling down like Kermit the Frog! This is now the raised back row of my home cinema!
So, what's left? A front row of seats, for one. They'll have to wait a while as the recliners I have in mind are a good few hundred pounds each and that money might need to go elsewhere first. In the meantime, if there is a need, I can always drag in swivel chairs from the computer room. There is also still the question of a flat panel TV. I am still undecided on this matter. People have made very good arguments for waiting and I should take heed. Still part of me is urging myself on, though. If I wait a bit I can buy a Surface-conduction Electron-emitter Display (SED) or perhaps a Laser TV. I expect it will be a few years before these are ready for mass production/uptake and there's always something better and cheaper around the corner. I may yet take the advice and wait a bit longer or I might give in. I don't know yet! TV aside, the other minor bits outstanding are things such as little tables for drinks raised up for the futon and a raising of the light fitting which is now all too easy to bang your head on!
The other recent innovation in there is a new DVD Recorder – finally VHS is completely obsolete! The only use I've had for video tapes in the last few years (since getting a TiVo) has been to record things off for other people. Now I can just put things onto DVDs. It's a Panasonic DMR-EX75EB, with built-in freeview and a hard disk drive. You can record to the hard drive or directly onto DVD, either by using the freeview guide to set timed recordings or just record live (from any input). If you put it to hard disk you can edit it and then save it off to digital versatile disc. Not only that but it is also multi-region (absolute requirement!) and it even upscales Standard Definition DVDs to High Definition (it will never look as good as real HD but I'm told it does a pretty decent job nonetheless). From what I've seen of it so far I certainly recommend it!
That only leaves one thing: the gap under the throne-like raised futon. The back is against the wall, under the left and right sides are two blocks that raise the chair (and stick out so the futon can still be converted into a temporary bed, if ever needed (hasn't been so far but the spare bedroom has been used from time to time)) and along the front is another block to rest your feet on. The futon, being on four metal legs with no skirt, now appears to have a large pit beneath it! What to do with it? The old piranha pool idea is always good but you've got to feed them – the local area will too quickly run out of cats, I think. It's not big enough for respectable sized sharks and I'd have the same feeding problems. No, it can't be anything that exotic. Storage? Maybe but it isn't the easiest area to access. For a childish moment I thought it would be great to make a little camp under there! That's going back to the old childhood of getting a few dining room chairs together and covering them with blankets to make a tent-like structure! That would be fun! But, sadly, I think I'm far too old for that. No, there's got to be some semi-practical use for that new space. Anyone with any ideas?!