on September 22nd, 2019
Podcast: Download ()
Subscribe: RSS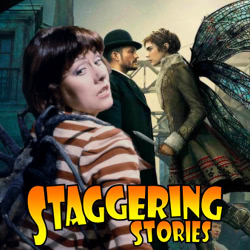 Summary:
Adam J Purcell, Andy Simpkins, Fake Keith, Jean Riddler and the Real Keith Dunn review the Doctor Who: Planet of the Spiders audiobook and Amazon's Carnival Row TV series, discuss the recent BFI Doctor Who event, find some general news, and a variety of other stuff, specifically:
00:00 – Intro and theme tune.
00:45 — Welcome!
01:51 – News:
02:04 — Doctor Who: Whittaker fingered for potential award.
03:35 — Doctor Who: Season 26 Blu-ray boxset announced.
06:34 — Discworld: Ankh-Morpork gets some BBC live action.
10:05 — Doctor Who: Eccleston suffered from mental illness during his tenure.
11:12 — The Suicide Squad: Cast list for James Gunn's film.
13:19 — Death's Head: New Marvel short run comic series.
14:29 – Carnival Row.
27:01 – Doctor Who: BFI screening of Mindwarp and Q&A.
36:21 – Doctor Who: Planet of the Spiders audiobook.
43:50 – Emails and listener feedback.
48:21 – Farewell for this podcast!
49:03 — End theme, disclaimer, copyright, etc.
Vital Links: