on May 28th, 2011
Podcast: Download (Duration: 1:35:47 — 54.8MB)
Subscribe: RSS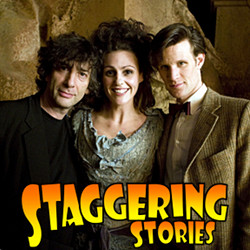 Summary:
Adam J Purcell, Andy Simpkins, Fake Keith, Jean Riddler and the Real Keith Dunn talk about the new Doctor Who episodes The Doctor's Wife and The Rebel Flesh, Neil Gaiman's Neverwhere, find some general news, and a variety of other stuff, specifically:
00:00 – Intro and theme tune.
01:06 — Welcome!
02:19 – News:
02:42 — Doctor Who: The Impossible Astronaut most recorded British TV ever.
04:52 — TV Choice Awards: Another split votes problem for Doctor Who/Sherlock?
06:45 — Karen Gillan: At the London Film and Comic Con 2011, Saturday 9th July.
08:10 — American TV: 'Ax' falls on many genre shows.
08:56 — Noel Clarke: Dunn construct 1 meets Mickey the Idiot.
09:58 — Jean Acts: Our very own Jean to play the Fourth Doctor in Morris play.
11:01 — BAFTAs: Nothing for Doctor Who but Sherlock gets two, Misfits one.
12:59 — David Tennant: Facebook campaign for lighting Olympic Flame.
14:00 – Doctor Who: The Doctor's Wife.
25:39 – Doctor Who: The Rebel Flesh.
37:52 – Neverwhere.
48:23 – Emails and listener feedback.* Hit us yourself at show@StaggeringStories.net
91:17 – Farewell for this podcast!
91:50 — End theme, disclaimer, copyright, etc.
Vital Links: