on July 25th, 2010
Podcast: Download (Duration: 1:13:14 — 41.9MB)
Subscribe: RSS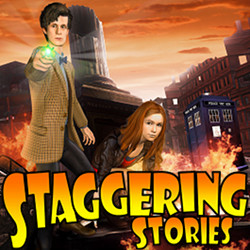 Summary:
Adam J Purcell, Andy Simpkins, Fake Keith and the Real Keith Dunn talk about the first two Doctor Who: The Adventure Games and FlashForward, find some general news, and a variety of other stuff, specifically:
00:00 – Intro and theme tune.
00:42 — Welcome!
01:28 – News:
01:39 — Doctor Who: 2010 Christmas Special News.
03:35 — Doctor Who: Matt Smith to quit Doctor Who after his second season?
07:32 — David Tennant: New Marvel Avengers film role as Bruce Banner?
09:10 — Sylvester McCoy: A hobbit in new Hobbit film?
10:06 — Tron Legacy: More casting news.
12:15 – Doctor Who: The Adventure Games – City of the Daleks and Blood of the Cybermen.
25:20 – FlashForward: Season One wrap-up.
38:40 – Emails and listener feedback.* Hit us yourself at show@StaggeringStories.net
67:47 – Farewell for this podcast!
68:14 — End theme, disclaimer, copyright, etc.
Vital Links: