on April 30th, 2010
Podcast: Download (Duration: 1:04:36 — 37.0MB)
Subscribe: RSS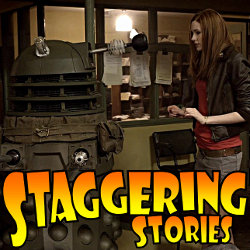 Show summary:
Adam J Purcell, Andy Simpkins, Fake Keith, Jean Riddler and the Real Keith Dunn talk about Doctor Who: The Victory of the Daleks and Ashes to Ashes season 3 episode 3, find some general news, and a variety of other stuff, specifically:
00:00 – Intro and theme tune.
00:39 — Welcome!
01:25 – News:
01:55 — Sarah Jane Adventures: Matt Smith (11th Doctor) and Katy Manning (Jo Grant).
03:39 — Torchwood: Fox turns down Torchwood USA.
05:53 — Doctor Who: Graham Norton gatecrashes The Time of the Angels.
08:45 — Doctor Who: Cybermen infultrate the Lib Dems.
10:44 — More Politics: Patrick Stewart backing Labour party in Crawley!
12:32 – Doctor Who: The Victory of the Daleks.
29:32 – Ashes to Ashes: Season 3, episode 3.
40:29 – Emails and listener feedback.* Hit us yourself at show@StaggeringStories.net
58:04 – Farewell for this podcast!
58:52 — End theme, disclaimer, copyright, etc.
Vital Links: