on July 20th, 2009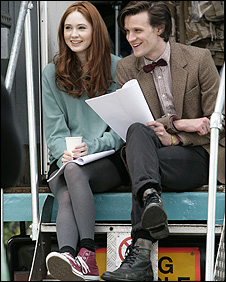 Today Matt Smith and Karen Gillan begin their Doctor Who career proper – they have started filming.  Today we have, finally, discovered Karen's character name and see the eleventh Doctor's outfit.  It all feels a little bit leaked.  Was it a controlled leak?  We may never know but it certainly wasn't the big glossy publicity shot of the two of them I was expecting.
Instead of the big headline (Doctor Who Magazine covering) shot we get a rather more intimate, behind the scenes sort of picture.  They two of them look relaxed and happy.  They look natural rather than artificial and posed. Perhaps that was the point, if there was one.  They look at home both together and on the set.  No first day nerves for these two?  Probably a twinge but there is no sign of it here.
We do know they've been in Cardiff for a few days.  A couple of days ago, or so, some lucky fan came upon the two of them wandering around what looked like Cardiff Bay and got their photo taken with the two of them.  A picture that quickly did the Twitter rounds before been removed from the originating website.  So clearly Matt and Karen didn't just meet this morning.  No doubt they met up for dinner a couple of months ago, too – I know I would in their situation.
But lets get onto the meat of today's revelations.
The Name
I have to admit to being a little disappointed that Steven Moffatt (the Vast Toffee (MN)) didn't go with my choice of companion character name – Grunhilda Knobnacker.  Instead he opted for 'Amy Pond'.  Okay, perhaps Karen does look more like an Amy than a Grunhilda (assuming such name/appearance correlations are valid at all!)  I'll forgive the Vast Toffee, this time!
I do wonder why there was all that secrecy about the character name up until now, though.  It's not a name that means anything to anyone (so far as I can tell, anyway).  Nor did they break the silence in a big shower of publicity.  It just kind of leaked out a couple of days ago and was confirmed in a 'by the way' fashion today, to go alongside the news of Matt Smith's costume.  That leaves me utterly baffled as to why they didn't release the name Amy Pond when they announced Karen Gillan's appointment.  Confound that Vast Toffee and his unfathomable ways!
The Costumes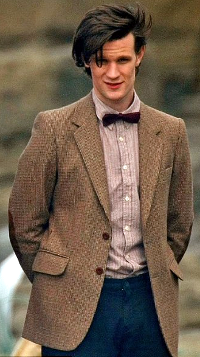 The real news, though, appears to be Matt Smith's tweed jacket, complete with elbow patches, and bow tie.  A somewhat professortorial look for Doctor 11, then.  With rolled up trousers and combat boots!  He's a man ready for action, either down in the trenches or in the library – a man for all seasons!
I have to say, I do quite like Matt Smith's costume.  It doesn't immediately appeal to me as much as David Tennant's costume (perhaps because Tennant's costume is a little bit more like I wear myself!)  Nonetheless, I do rather like Matt's outfit.  They've gone for a look that I (and probably most brits) associate with the Open University and old school science teachers.  It takes the edge off his young appearance.  Makes him seem a little more timeless.  Job done there, then.
A quick poll of people around the firm seemed to give tentative thumbs up, although one person was concerned that he looked exactly like 'Pee-wee Herman'.  I don't know how well that character is known in the UK – I've heard the name referred to in US films and TV but don't really know who he is.  I don't think the 1950s/60s American High School 'Poindexter' look means much on this side of the pond – that's certainly not what I see in his costume, as I said he looks like an old school professor to me.  I do wonder if Amy will start calling the Doctor 'Professor'!
I'm not quite so sure what to make of Karen/Amy's outfit.  For one thing, it is probably more likely to change as time goes by, as Rose's did (more so than, say, Martha's).  Has she stolen Tennant's shoes, though?  I know she's tall but I doubt they'd fit her!  To be honest, I preferred her outfit from the publicity shots they did for the announcement of Karen Gillan's appointment.  Maybe we will yet see something more like that – who knows what might be under that baggy pullover of hers!
Conclusion
To sum all that waffle up – I'm happy with the 11th Doctor's costume.  I like the new companion's name (even if it wasn't the silly name I came up with!)  I am really encouraged that they look so relaxed on set on their first morning of filming.  I am a bit disappointed these new facts weren't released as some big publicity drive with cool looking promo photos but these more informal shots have given me real confidence that Karen and Matt are going to be a great duo.
Good luck to both Karen Gillan and Matt Smith – enjoy it, make it the time of your lives.