on December 23rd, 2007
Podcast: Download (45.0MB)
Subscribe: RSS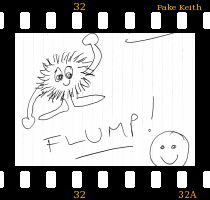 Show summary: Andy Simpkins, Adam J Purcell, Fake Keith, Tony Gallichan and special guest Paul-From-WhoCast (Paul Wilson) talk about Doctor Who: The Empty Child, Doctor Who: The Doctor Dances, Christmas TV from the past, and a variety of other stuff, specifically:
00.00 – Intro and theme tune – now with added jingly bells stuff!
00.41 — Season's greetings, yes?
00.52 — Intruder Alert! It's Paul -From-Whocast!
01.33 – Crackers!
03.00 — If there's crackers then terribly bad jokes can't be too far behind – Flee!
04.50 — The Head Of Pertwee's got his hat on, hip hip hip hip Haiiii!
07.29 — Where is Keith???
07.51 — And now, two podcasts in one as Crumbly and Fake Keith go off into their own little world…..
08.45 – History Today – Christmas Telly from the past!
09.39 — The Game of Doom! Well, for Paul-From-Whocast it is, anyway….Exactly /how/ much does he love the Slitheen?
11.55 — That bloody Blue Peter Advent Crown!
15.00 — Tony and 'Neighbours', sitting in a tree, K.I.S.S.I.N.G.
16.45 — Stop! Hovis Time!
21.47 — No, no, no, no, no, no, Dibbley?
23.12 — So, fave Chrissie fillums then…
25.16 — Scary Mary!! Aiiieeeeeeeeeeeee!!!!!!!!!
27.54 — Ah, Ludwig.
31.27 – Doctor Who – The Empty Child/The Doctor Dances (with added new series themey stuff!)
34.46 — Fake Keith tells the world her views on 'Dalek'. You may need an adult to hear this with you 'cos it scared us and we know her!
36.35 — Fake Keith gives in on The Game Of Doom! Wimp!
41.08 — Adam takes a firm stance on The Best Doctor Who Story In The World Ever – apparently…
42.30 — Where is Fake Keith???
43.39 — The Comments Of Leslie!
47.00 — The Doctor – what a murdering git!
52.45 — Ooh, it has /three/ settings!
54.49 — Yes, we have no weapons facilities, we have no weapons facilities todaaaayyyyy..
55.39 — How to think in four dimensions….
57.17 — Junior Captain Jack and the Giant Kitty of Doom!
59.45 — Squeeeee! (oh dear Bod!)
60.46 — Hail Caeser Adam Caligula!
62.58 — Tornadic cheesy link into….Cue Cliffhanger!!!
63.09 – Letters and viewer feedback.* Hit us yourself at show@StaggeringStories.net
67.10 — look, we're doing the TV Movie, then Voyage of the Damned THEN Torchwood, ok? Good…we cocked that bit up to be honest..
68.55 – And incidently, a happy Doctor Who fan cliche to all of you at home..oh, and goodbyeeeeeeeee!!!
69.32 — * End theme, disclaimer, copyright, etc.
Vital Links: