on November 29th, 2007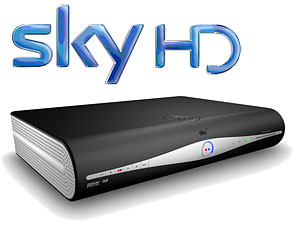 Virgin Media has crossed me for the last time! I must say goodbye to their TV service and their TV Drive (aka V+) box and its High Definition goodness. It's, sadly, hello HM Murdoch and your Sky HD box.
The final straw for Virgin came last night as I got home and opened up my latest bill from them. The first thing I checked was that they had, finally, reimbursed me for my recent telephone outage (of the best part of a month, no less). Sure enough, they had deducted about £12 off the bill to cover that. How much does that drop my monthly payment, I wondered idly. Huh, it's gone up, not down? How can that be? They'd broken out my component costs – telephone, broadband, TV subscription, TV Drive box. What had happened to the deal I negotiated when I took on the TV package that lumped them all together?
Turns out it wasn't a mistake brought about by my discount, as I originally assumed, but instead the deal I negotiated only lasted a year. Shame they didn't tell me that when I signed up! I wasn't particularly happy with that deal I already had – I sure as hell am not paying even more for their service – especially as it has deteriorated considerably over the last year rather than improved.
Some of Virgin's recent transgressions:
Leaving me without a telephone service for about four weeks (not to mention the hoops I had to jump through to get it restored at all…) Apparently someone had randomly unplugged my phone at the local junction box. I know I'm not the only person to suffer from that problem…
A while back there was a national TV Drive outage. They sent a letter out apologising and offering us all a free Pay Per View movie, of our choice. Automatically taken off our next bill, they claimed. It wasn't. I couldn't even be bothered to fight that one – they never got another PPV penny out of me.
Loss of TV channels. I start up a 12 month contract and by the end of it I've lost major channels without any change in the monthly charges. Yes, I'm partly talking about the Sky channels. More importantly, I'm talking about ITV HD. When I signed up they had two HD channels. Both were, admittedly, trial channels – BBC HD and ITV HD. Nonetheless, I was led to believe (in very vague terms) that they expected to add more HD channels over the coming year (i.e. 2007). Instead we now have only one – BBC HD. HD was the main driving factor for the TV Drive and the Virgin (or Telewest, as was) TV package. That was unacceptable.
To be honest, I came so close to dumping Virgin entirely after my recent telephone problems – customer service like that deserves severe punishment. Only laziness kept me with them. There's still an inertia there from me, even now. Virgin will retain my custom for the telephone and broadband, for the time being. I am seriously considering moving my phone back to BT and trying out for ADSL again (I've so far failed three times to get ADSL due to distance from the telephone exchange, that's when Telewest finally provided broadband in my area – it was ISDN up until then.) The hassle of attempting to retain my phone number and the inferior offering of ADSL to cable broadband will keep me as a reduced Virgin customer until at least next year.
I'm not alone, either. Elsewhere on this blog and in the Staggering Stories Musings, you will hear the horror stories Tony has to tell of Virgin Media (and his trouble with them isn't entirely over yet, as I understand it). I know my parents are considering dumping them, too. It's a small sampling but, including myself, that must be over 50% of the people I know who are Virgin customers are either dumping Virgin or are seriously considering it. Word of mouth gets around and this particular Virgin is leaving a sour taste in many mouths indeed!
To the future, then. I have bought a Sky HD+ box off eBay (apparently an authorised Sky reseller, certainly the AV forums have generally positive noises about the reseller in question). It was an ouch moment. I hadn't expected to be having to pay out for a Sky digibox (the TV Drive/V+ is rented, Virgin have already set a date to pick it up, just after Christmas). £265, including a new quad LNB (the active bit of a Sky dish – my existing one doesn't have enough outputs) and extra coax cabling. Bad time of year for that sort of expense. It should repay itself soon enough though…
From my investigations I should be able to slot in my existing Freesat card and, hey presto, I will have access to all the Free to Air and Free to View channels – including BBC HD. In practice I will need to call Sky to link my card to the new box but that should be it. In truth all I really care about, at least right now, is getting the normal 'terrestrial' channels (suitably upscaled to 1080i) and BBC HD. I don't need a subscription for any of those. Why have I been paying Virgin all this time, like a sucker? I lived for a good year or two with just Freesat before I got my new TV a year ago. HD and upscaling were the only reasons I went with Virgin TV in the first place. With talk of ITV HD making a return and Channel 4 HD turning up shortly, all Free to Air or Free to View – I will have plenty of good TV available (and without a subscription, as it should be – I pay my TV Licence, damn it!)
The only fly in the ointment with this free Sky business (trying desperately to ignore the up front cost of a HD box) is the loss of my TiVo. My TiVo was replaced by the TV Drive and its PVR (personal video recorder, aka digital video recorder – DVR) capabilities. TiVo used to cost me £10 a month for the subscription, but couldn't support HD. Enabling the PVR features on my Sky HD box will cost me the same. So, Sky will get £10 out of me a month, after all. Heck of a lot less than Virgin were charging me for their TV package. Effectively I've got myself a HD TiVo with a built in Sky HD tuner. Not a bad deal.
I'm sure I will one day return to Virgin for their TV service, spitting blood over a series of slights from Sky. They're both about as bad as one another. Right now, though, Virgin have passed my wrath threshold. So, it's good riddance Virgin Media TV!
It's a shame – I used to be so impressed by Telewest at one time…