on February 28th, 2016
Podcast: Download (Duration: 1:18:25 — 44.9MB)
Subscribe: RSS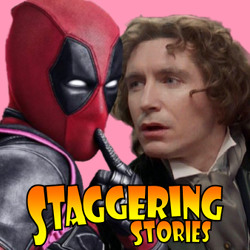 Summary:
Adam J Purcell, Andy Simpkins, Fake Keith, Jean Riddler, the Real Keith Dunn and Scott Fuller review the 2002 Big Finish Doctor Who story 'Seasons of Fear' and the 2016 film 'Deadpool', talk of their time at the Science of the Time Lords event, play a game, find some general news, and a variety of other stuff, specifically:
00:00 – Intro and theme tune.
01:05 — Welcome!
01:57 – News Predictions:
02:02 — Bananaman: The Musical.
03:44 — Star Trek: Bryan Fuller signs up for TV series.
05:28 — Star Wars: 1977 print released by fans.
08:09 — Back to the Future: Fan made prequel trailer.
09:39 — Chairs: Nissan self parking chairs.
11:29 – Doctor Who: Seasons of Fear (Big Finish).
23:06 – Game: Things in Five Words.
28:16 – Deadpool (the film).
41:41 – Science of the Time Lords event.
46:41 – Emails and listener feedback.* Hit us yourself at
71:07 – Farewell for this podcast!
72:30 — End theme, disclaimer, copyright, etc.
Vital Links: