on October 13th, 2013
Podcast: Download (Duration: 1:09:46 — 40.0MB)
Subscribe: RSS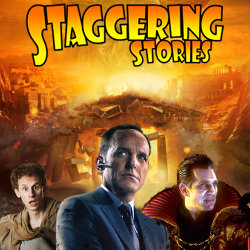 Summary:
Adam J Purcell, Andy Simpkins, Fake Keith, the Real Keith Dunn and Scott Fuller put their voted for Eighth Doctor story 'Doctor Who: The TV Movie' on trial, discuss the first two episodes of Agents of SHIELD and the BBC's Atlantis, and a variety of other stuff, specifically:
00:00 – Intro and theme tune.
01:33 — Welcome!
02:54 – News:
03:03 — Doctor Who: Matt Smith has left the building.
04:18 — Reboots and Spin-offs:
04:20 —– Batman: James Gordon 'Gotham' spin-off.
04:50 —– The Walking Dead: AMC greenlights parallel spin-off.
06:15 —– Thunderbirds: New CGI reboot coming.
08:36 — Matt Smith: Getting into musical theatre – American Psycho.
12:44 — Doctor Who RPG: Third Doctor source book ready for preorder.
13:45 — Gillan Watch: Finished with Guardians of the Galaxy and Not Another Happy Ending out now.
15:24 — Rory Watch: Arthur Darvill to appear in UK Broadchurch series two.
16:10 – Game: Cheddar Gorge.
20:00 – Doctor Who: Trial of a Doctor – The Eighth Doctor and The TV Movie.
34:23 – Atlantis.
44:06 – Agents of SHIELD.
51:37 – Emails and listener feedback.* Hit us yourself at show@StaggeringStories.net
63:22 – Farewell for this podcast!
63:51 — End theme, disclaimer, copyright, etc.
Vital Links: