on November 27th, 2011
Podcast: Download (Duration: 1:04:37 — 37.0MB)
Subscribe: RSS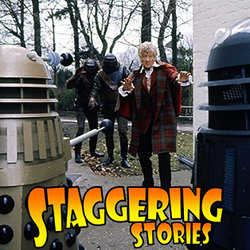 Summary:
Adam J Purcell, Andy Simpkins, Construct Number 2, Fake Crumbly, Fake Keith, Jean Riddler and the Real Keith Dunn talk about the 'Doctor Who: Day of the Daleks', play 'Doctor Who Twenty Questions', play 'Guess the Alien', rant about the news of the new Doctor Who film and 'official' Doctor Who convention, find some other general news, and a variety of other stuff, specifically:
00:00 – Intro and theme tune.
01:08 — Welcome!
01:41 – News:
01:55 — Doctor Who: The Motion Picture.
18:01 — Doctor Who: The 'Official' (rip off) Convention.
22:51 — Quickfire News Roundup:
22:53 —– Being Human: Russell Tovey has left.
23:03 —– Ender's Game Film: Merlin's Mordred, Asa Butterfield, offered role of Wiggin.
23:14 —– Misfits: Returns to record viewing figures.
23:25 —– The Munsters: NBC has greenlit Bryan Fuller's reimagining.
23:45 — William Shatner: Seeking Major Tom album now out for your listening torture.
24:47 – Doctor Who Twenty Questions.
27:39 – Doctor Who: Day of the Daleks.
43:59 – Guess The Alien.
46:58 – Emails and listener feedback.* Hit us yourself at show@StaggeringStories.net
60:17 – Farewell for this podcast!
60:48 — End theme, disclaimer, copyright, etc.
Vital Links: