on November 10th, 2013
Podcast: Download (Duration: 1:16:31 — 43.9MB)
Subscribe: RSS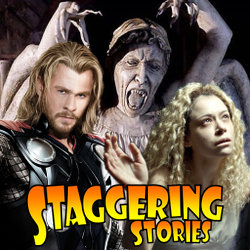 Summary:
Adam J Purcell, Andy Simpkins, Fake Keith, Jean Riddler, and the Real Keith Dunn put their voted for Tenth Doctor story 'Doctor Who: Blink' on trial, review the new Thor film 'The Dark World', discuss the now finished first season of Orphan Black, and a variety of other stuff, specifically:
00:00 – Intro and theme tune.
01:30 — Welcome!
02:00 – News:
02:08 — Doctor Who: Day of the Doctor cinema release.
05:34 — Atlantis: Second season ordered.
06:51 — Jonathan Strange and Mr Norrel: Finally cast and shooting.
09:01 — Paddington Bear: Peter Capaldi set for the feature film.
10:40 — Doctor Who: Still more rumours of more found episodes.
12:18 — Science: Time travel paper full of Doctor Who jokes.
14:36 — Doctor Who: An Adventure in Space and Time broadcast announced in UK.
16:14 – Doctor Who: Trial of a Doctor – The Tenth Doctor and Blink.
29:12 – Thor: The Dark World.
42:05 – Orphan Black.
47:44 – Emails and listener feedback.* Hit us yourself at show@StaggeringStories.net
71:20 – Farewell for this podcast!
72:28 — End theme, disclaimer, copyright, etc.
Vital Links: