on January 24th, 2010
Podcast: Download (Duration: 1:23:18 — 47.7MB)
Subscribe: RSS
Summary: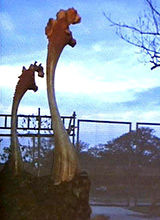 Andy Simpkins, Adam J Purcell, Jean Riddler and Keith Dunn talk about our early memories and favourite villains from Doctor Who, The Day of the Triffids (mainly the 2009 version), the blockbuster Avatar, find some general news, and a variety of other stuff, specifically:
00:00 – Intro and theme tune.
01:19 — Welcome!
02:07 – News:
02:26 — Doctor Who: Writers for New Series, Season 5 officially announced.
06:51 — Outcasts: New BBC One 'space drama'.
08:30 — Spider-man: Teenage reboot for film series.
11:57 — Edge of Darkness: Hollywood turns another classic BBC Series into a film.
13:51 — Firefly: New TV series tie-in book.
15:45 – The Day of the Triffids (2009)
32:50 – Doctor Who: That Brown Trouser Moment.
42:56 – Avatar.
56:56 – Emails and listener feedback.* Hit us yourself at show@StaggeringStories.net
76:50 – COMPETITION TIME! Win a Whooverville 3 Disc DVD set (including interviews with Colin Baker, Anneke Wills, Nick Briggs, and many more!)
79:37 – Farewell for this podcast!
80:04 — End theme, disclaimer, copyright, etc.
Vital Links: