on April 30th, 2011
Podcast: Download (Duration: 2:13:15 — 76.3MB)
Subscribe: RSS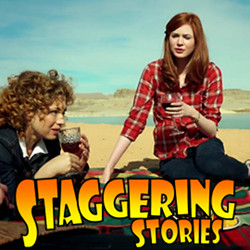 Summary:
Adam J Purcell, Fake Keith, Jay Doran (of The Untempered Schism podcast), Jean Riddler and the Real Keith Dunn pay tribute to Elisabeth Sladen, talk about the Doctor Who: The Impossible Astronaut, find some general news, and a variety of other stuff, specifically:
00:00 – Intro and theme tune.
01:02 — Welcome!
02:27 – News:
02:40 — Torchwood: John 'Q' de Lancie joins the Miracle Day cast.
03:48 — Red Dwarf: Season X not to be screened until Autumn 2012.
05:59 — Misfits: Robert Sheehan (Nathan) not appearing in Season 3.
07:32 — Doctor Who: Multiple Hugo Award nominations.
09:55 — Doctor Who: Overnight ratings for The Impossible Astronaut.
11:50 – Elisabeth Sladen: our tribute.
32:27 – Doctor Who: The Impossible Astronaut.
54:58 – Emails and listener feedback.* Hit us yourself at show@StaggeringStories.net
126:10 – Farewell for this podcast!
126:52 — End theme, disclaimer, copyright, etc.
Vital Links: