on April 28th, 2007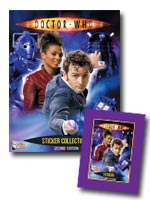 With all these deadly serious things I do in my life all I end up talking about in this blog are childish things like games consoles, MMOs, TV and, yes, the Second Edition of the Doctor Who Sticker Album! I must be doing something right!
I must say I had great fun with the first of these sticker albums last year, it took me right back to 1981 (not via a coma, I must add) and what was probably the last sticker album I had – Star Wars: The Empire Strikes Back. Of course the album itself is long since gone, trapped in carbonite somewhere, I expect. I do seem to remember the finished album being somewhat thicker than the last Doctor Who one. Probably just my childish imagination! It was certainly very shabby by the end, though – it hardly left my school satchel for many months! One thing that is for sure – my ability to put the stickers in straight has not improved with age…
Clearly last years album did well enough to make a second worthwhile for Merlin. I had no idea sticker albums still existed! I'd like to think that these Doctor Who albums have helped create a resurgence in the products but I see they also do the likes of WWF wrestling (or whatever they call it this week), Barbie, Pokémon and the big one, no doubt, Premier League Football. I suspect there aren't many grown ups buying many of those, though. Yes, I know, there are probably only a few of the saddest old fans buying the Doctor Who ones, too. So, who else is going to join me for swapsies this time then?!