on June 27th, 2010
Podcast: Download (Duration: 52:29 — 30.1MB)
Subscribe: RSS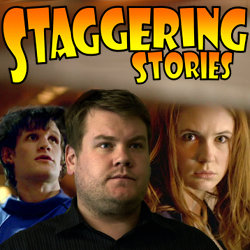 Summary:
Adam J Purcell, Andy Simpkins, Fake Keith, Jean Riddler and the Real Keith Dunn talk about Doctor Who: 'The Lodger', find some general news, and a variety of other stuff, specifically:
00:00 – Intro and theme tune.
01:02 — Welcome!
02:06 – News:
02:22 — Doctor Who: Christopher Eccleston talks quitting Doctor Who.
03:50 — David Tennant to star in Fright Night remake film.
06:42 — The Shat: William Shatner to direct a documentary about himself.
09:59 – Doctor Who: The Lodger.
27:59 – Emails and listener feedback.* Hit us yourself at show@StaggeringStories.net
43:00 – Farewell for this podcast!
44:23 — End theme, disclaimer, copyright, etc.
Vital Links: