on March 1st, 2009
Podcast: Download (40.9MB)
Subscribe: RSS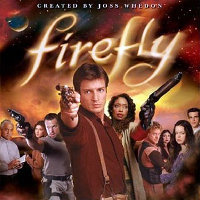 Show summary: Andy Simpkins, Adam J Purcell, Fake Keith and the 'Real' Keith Dunn talk about Doctor Who: Best and Worst One-Off Characters, games we are playing and books we are reading, Firefly: an overview, find lots of general news, and a variety of other stuff, specifically:
00:00 – Intro and theme tune.
00:44 — Welcome!
01:03 – News:
01:22 — Doctor Who: Lindsay Duncan announced as a Special companion!
02:19 — Doctor Who: BBC planning a Stage Show?
03:53 — Doctor Who: Zimbabwe hoarding lost Doctor Who episodes?
05:11 — Sarah Jane Adventures: Ronnie Corbett to star in Comic Relief Special.
05:50 — Dollhouse: Starts off to poor ratings in Friday Night Death Slot.
06:43 — Dead Like Me: Back from the dead via direct to DVD special.
08:22 — Watchmen: Several versions of the film – long, very long and ginormous!
10:21 — Futurama: Possibility of a sixth season, back on Fox…
10:58 — Star Trek: The new film is getting more 'Rock and Roll'.
12:57 — Pride and Predator: new Jane Austen vs. Predator film.
14:16 — The Shat: William Shatner wants to be Prime Minister of Canada.
16:54 – Doctor Who: Best and Worst One-Off Characters.
40:01 – Games we're playing and books we're reading.
45:06 – Firefly: an overview.
62:50 – Emails and listener feedback.* Hit us yourself at show@StaggeringStories.net
69:07 – Farewell for this podcast!
69:35 — End theme, disclaimer, copyright, etc.
Vital Links: