on May 5th, 2019
Podcast: Download ()
Subscribe: RSS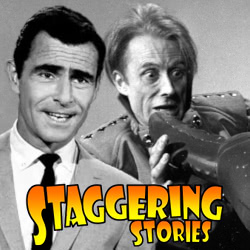 Summary:
Adam J Purcell, Andy Simpkins, Fake Keith, Jean Riddler and the Real Keith Dunn review Doctor Who: The Macra Terror, discuss their visit to the Ambassadors Theatre to see The Twilight Zone stage play, and a variety of other stuff, specifically:
00:00 – Intro and theme tune.
01:05 — Welcome!
03:08 – Doctor Who: The Macra Terror
20:03 – The Twilight Zone: the West End stage play.
31:24 – Emails and listener feedback.
37:40 – Farewell for this podcast!
38:29 — End theme, disclaimer, copyright, etc.
Vital Links: