on September 26th, 2015
Podcast: Download (Duration: 1:01:01 — 35.0MB)
Subscribe: RSS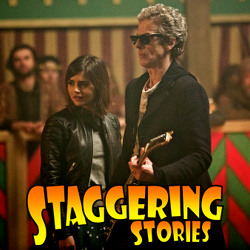 Summary:
Adam J Purcell, Andy Simpkins, Fake Keith, Jean Riddler, the Real Keith Dunn and Scott Fuller discuss the 2015 première Doctor Who episode The Magician's Apprentice, find some general news, and a variety of other stuff, specifically:
00:00 – Intro and theme tune.
01:10 — Welcome!
02:27 – News:
02:38 — Doctor Who: Jenna Coleman to depart.
04:58 — Torchwood: Big Finish already plan a second series of audios.
06:59 — Marvel TV: Jessica Jones dated by Netflix.
09:30 – Doctor Who: The Magician's Apprentice.
46:03 – Emails and listener feedback.* Hit us yourself at
52:30 – Farewell for this podcast!
54:19 — End theme, disclaimer, copyright, etc.
Vital Links: