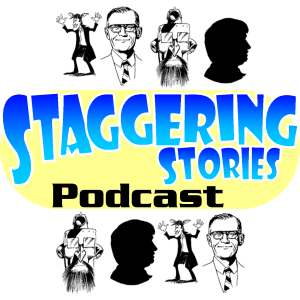 Where does all the time go? Certainly not into MMOs, not for the past few weeks anyway. In fact it has been 3 weeks today since I sat down and played World of Warcraft on my own. I just don't have time for messing about with computer games right now. That being the case, I've let my City of Heroes account expire. I still have a few weeks left on my 60 day WoW time card and it remains to be seen if I will have located any missing time by that point to resub with a new time card. I suspect it will wait a further few weeks after that, though.
So, where has that time gone? Taking this week as an example, then. Last night, Monday, had me shifting kit and furniture to prepare for a podcast recording. Yes, that recording should be tonight – the first proper Staggering Stories podcast. So that's tonight, Tuesday. Assuming that happens okay then tomorrow, Wednesday, will see our first attempt to edit together the three audio tracks (each recorded on a different machine, one per podcast host). By rights I should be somewhere around East Grinstead on Thursday but I've not heard confirmation of that. That leaves Friday, which is normally the day the gang come over for fun and games! So, not a single evening this week free for MMOs. Okay, there's the weekend but most of Sunday is normally out seeing the family (I might have an hour Sunday morning and about two hours Sunday evening, time to catch up on a couple of TV programmes from the week). Saturday is the only real time to do anything around the house, for Staggering Stories (not including the podcast, of course!) or any little projects I have (such as the currently languishing Asterisk project) and, of course, the good chunk of the evening that is taken by Doctor Who, Confidential and Totally Doctor Who (from the previous day – I avoid watching it until after the new Who, so I can watch the trailer at the end!) That's just this week. The previous few weeks have been similarly hectic. Never a dull moment for me!
Back to the podcast preparations. I've installed Audacity on three machines (my Mac Mini, running OS X (no, not necessarily 'of course', I did have Ubuntu Linux running on there at one point), my laptop running Fedora Core 6 Linux and the secondary desktop from my computer room running the dread Windows XP (it was dual booting Ubuntu at one point – Ubuntu has never quite convinced me and I keep meaning to set this machine up with a dual boot Fedora)). Several gigabytes needed to be freed up on the Mac Mini and the laptop, running out of space would end the podcast pretty quickly! I had to buy an iMic USB soundcard for the Mac Mini as it hasn't got audio in. Last night I tried to record with my laptop and found the input record levels very low. I don't know what can be done about that, if anything. I may have to buy another iMic for the laptop but I certainly don't have time before tonight's recording (nowhere in town stocks them, not even the local PC World…) I've also got some new headsets, ones with only one ear speaker bit, so at least one of our ears is uncovered to hear what the others are saying clearly (that's forethought!). I picked up a couple of extra clipboards too, just in case the others want to make notes as we go. All in all I think we are pretty much ready on a technical level (laptop concerns aside).
That all just leaves the mental preparation for the podcast! Getting in a decent state of mind and thinking of things to talk about. Those are the tricky bits. I find myself strangely (and pointlessly) nervous about it the closer it gets. We will have about 3 listeners, maybe 6 at a push! At times like this, having listened to so many hundred podcasts in my time, the pressure is on! Fortunately I listened to the first 20 or so minutes of the first LUGRadio episode the other day and that was ropier than scout badge hell! It will take us a while to get in the swing of things too. Plan for the best show we can do, expect the worst show ever!
Back to the beginning, then. No time to play MMOs, no point paying for them at the moment. If I ever do find some free time I also have several non-MMO PC games to play, most notably Tomb Raider: Anniversary. It's not all over for MMOs, there will always be the free to play ones: Guild Wars, Dungeon Runners and Space Cowboy!