Podcast: Download (Duration: 1:22:07 — 47.0MB)
Subscribe: RSS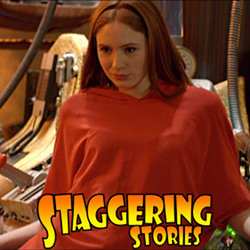 Summary:
Adam J Purcell, Andy Simpkins, Fake Keith and the Real Keith Dunn talk about the Doctor Who 'Series 5' DVD and Blu-ray Boxset, Merlin season three, Harry Potter and the Deathly Hallows Part One, find some general news, and a variety of other stuff, specifically:
00:00 – Intro and theme tune.
01:34 — Welcome!
02:55 – News:
03:02 — Doctor Who: Christmas Special transmission time for UK and Australia!
04:30 — K9 Series: UK Channel Five start date and time.
05:23 — Doctor Who: Fourth Adventure Game on Christmas Day and mobile phone game coming soon.
08:04 — Dead: Ingrid Pitt, Leslie Nielsen and Irvin Kershner.
08:36 — Doctor Who: Real sonic screwdriver being developed…
10:36 — Doctor Who: New Amy Pond figure coming.
12:02 — Tron: Crumbly's still pushing the Tron Legacy film.
13:58 – Doctor Who: 'Series 5' DVD/Blu-ray Boxset.
24:00 – Merlin: Season three retrospective.
40:40 – Harry Potter: The Deathly Hallows, Part One.
54:27 – Emails and listener feedback.* Hit us yourself at show@StaggeringStories.net
75:55 – Farewell for this podcast!
76:57 — End theme, disclaimer, copyright, etc.
Vital Links: