Podcast: Download (Duration: 1:59:18 — 68.3MB)
Subscribe: RSS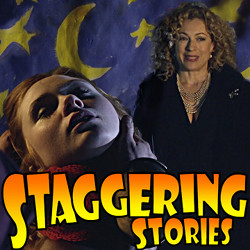 Summary:
Adam J Purcell, Andy Simpkins, Jean Riddler and Keith Dunn talk about Doctor Who: 'The Big Bang', have a general discussion on Season 5 of the new Doctor Who Series, find some general news, and a variety of other stuff, specifically:
00:00 – Intro and theme tune.
00:47 — Welcome!
02:03 – News:
02:17 — Doctor Who: Bookmaker taking bets on Matt Smith axing.
07:14 — Doctor Who: Matt Smith invades Glastonbury.
08:58 — The Hobbit: Peter Jackson to take over directing?
13:01 – Doctor Who: The Big Bang.
45:57 – Doctor Who: 2010 Season Round-up.
74:49 – Emails and listener feedback.* Hit us yourself at show@StaggeringStories.net
113:14 – Farewell for this podcast!
113:41 — End theme, disclaimer, copyright, etc.
Vital Links: