Podcast: Download (Duration: 1:30:33 — 51.9MB)
Subscribe: RSS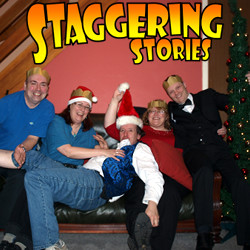 Summary:
Adam J Purcell, Andy Simpkins, Fake Keith, Jean Riddler and the Real Keith Dunn 'write' their own Doctor Who Christmas Special, discuss The Hobbit and Jeff Wayne's War of the Worlds, play some festive games of Name That Sci-Fi Tune, Swanee-Kazoo and Pass the Parcel, pull some Christmas Crackers, find some general news and a variety of other stuff, specifically:
00:00 – Intro and theme tune.
02:15 — Welcome!
04:18 – News:
04:26 — Doctor Who: Anniversary audios, books and Christmas Special tie-in eBook.
06:46 — Jonathan Strange and Mr Norrell: BBC TV adaptation.
08:17 — Tron 3: New writer and returning star.
12:09 — Lapcat: Design stolen from Thunderbirds?
13:04 — Daily Mail: Where's the Pond-like outrage?
14:02 — Huffington Post: Explaining Doctor Who.
14:53 — The Big Bang Theory: Carnal activities in a Police Box.
16:00 – Name That Sci-Fi Tune.
25:04 – Jeff Wayne's Musical Version of The War of the Worlds: The New Generation.
33:54 – Christmas Crackers!
45:41 – Doctor Who: Our Staggering Christmas story.
51:30 – The Hobbit: An Unexpected Journey.
65:37 – Swanee-Kazoo: Christmas Carols.
67:21 – Pass the Parcel: Christmas Sci-Fi Quiz.
75:20 – Emails and listener feedback.* Hit us yourself at show@StaggeringStories.net
83:35 – Farewell for this podcast!
84:59 — End theme, disclaimer, copyright, etc.
Vital Links: