Podcast: Download (Duration: 11:50 — 8.2MB)
Subscribe: RSS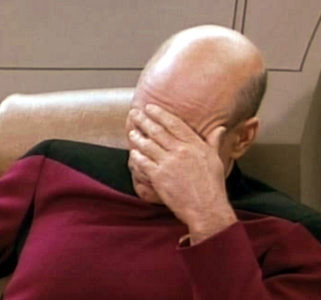 At long last, Captain Jean-Luc Picard's most private thoughts, his memoirs if you will, have been committed to audio.
Staggering Stories and the Flashing Blade Podcast are proud to bring you  Tim Munro and Nick Cooper's The Secret Log of Captain Jean-Luc Picard:
For too long, the world has been deceived. Through the series Star Trek – The Next Generation, we have all been led to believe that life in the 24th Century will be one long round of adventure in a disciplined and civilized Universe. However, we at Star Begotten are now in possession of documents which shoot to pieces the cosy image of life aboard the USS Enterprise. These documents, transported from the 24th Century via the now fabled SB office time warp, cast new light on the crew's relationships and day-to-day life…
Originally appearing the the fanzine Star Begotten, in October 1989, then migrating to Private Lives, as run by a certain Siobhan Gallichan and then finally reprinted on the Staggering Stories website. Later episodes will be committed to audio in time but if you'd wish to read the other episodes now then they can be found at: http://www.StaggeringStories.net/secretlog.html.
A big thank you to Siobhan Gallichan for performing the narration and production and, of course,  Tim Munro and Nick Cooper for allowing us to bring this to you.