Podcast: Download (Duration: 1:10:33 — 40.4MB)
Subscribe: RSS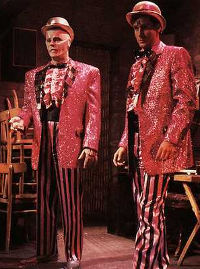 Summary:
Andy Simpkins, Adam J Purcell, Fake Keith and the Real Keith Dunn talk about Doctor Who computer games, Red Dwarf Season 3, have a 30 second recommendation for Iain M Banks' Culture novels, hold a competition, find some general news, and a variety of other stuff, specifically:
00:00 – Intro and theme tune.
00:53 — Welcome!
01:59 – News:
02:03 — Torchwood USA: Fox TV developing an American Torchwood.
03:48 — Doctor Who: Computer game to be developed?
06:02 — Rex Is Not Your Lawyer: Canned before it got started?
07:20 — Red Dwarf: Chris Barrie suggests a new full season is possible.
09:05 — Doctor Who: Billie Piper talks about Hollywood Doctor Who film.
09:49 — Star Wars: Wizards of the Coast drop pen & paper RPG and miniatures line.
10:30 – Red Dwarf: Season 3
25:11 – Doctor Who: Computer games past and future.
35:32 – 30 Second Recommendation: Iain M Banks' Culture novels.
37:21 – COMPETITION TIME! Win a Whooverville 3 Disc DVD set (including interviews with Colin Baker, Anneke Wills, Nick Briggs, and many more!)
38:47 – Emails and listener feedback.* Hit us yourself at show@StaggeringStories.net
56:40 – Farewell for this podcast!
57:05 — End theme, disclaimer, copyright, etc.
64:40 — The TARDIS Tavern promo.
66:08 — The Ood Cast promo.
Vital Links: