Podcast: Download (Duration: 27:22 — 20.3MB)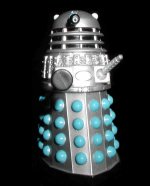 It's Christmas! A special time for little Daleks everywhere. To celebrate this we proudly present a new Mr Dalek Adventure on our podcast feed.
This new exciting story, written by long time Mr Dalek fan, Benjamin F Elliot, and narrated by Tony Gallichan is published, in audio form, for the first time today: Mr Dalek and the Year of the Gap.
Enjoy!