Podcast: Download (39.2MB)
Subscribe: RSS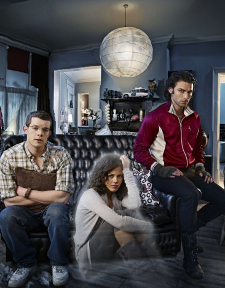 Show summary: Andy Simpkins, Adam J Purcell, Fake Keith and the 'Real' Keith Dunn talk about Doctor Who: Proudest and Most Embarrassing Moments, their time at Doctor Who Convention: Time Quest '09, the BBC's Being Human, recommend Sapphire and Steel, find lots of general news, and a variety of other stuff, specifically:
00:00 – Intro and theme tune.
01:02 — Welcome!
01:22 – News:
01:34 — Doctor Who: The TARDIS will get a full (interior!) redesign.
02:51 — Doctor Who: Hannah Murray to be new companion with Matt Smith?
03:44 — Doctor Who: Big Finish remake Colin Baker's 'Lost' season as audio plays.
04:54 — Being Human gets a second season.
05:26 — US Life on Mars is cancelled, to death!
06:00 — New Knight Rider is cancelled, to the scrapyard!
06:18 — Dollhouse and Terminator: The Sarah Connor Chronicles DVR figures are good.
07:04 — Star Trek: The Experience back from the dead.
08:03 — NASA competition to name ISS Node 3 – Browncoats vote Serenity!
09:05 — Star Trek: The smell of nerd. Special fragrances released.
10:15 — Doctor Who: Dalek rises out of pond!
11:50 – The Staggering Team go to Doctor Who convention: Time Quest '09.
19:05 – Being Human.
27:12 – El Presidente.
28:41 – Doctor Who: Proudest and Most Embarrassing Moments.
46:30 – Tin Dog's '30' Second Recommendation: Sapphire and Steel.
47:56 – Staggering Stories Presents: Subliminal Messages.
48:18 – Emails and listener feedback.* Hit us yourself at show@StaggeringStories.net
66:00 – Farewell for this podcast!
66:26 — End theme, disclaimer, copyright, etc.
Vital Links: