Podcast: Download (Duration: 1:27:31 — 50.2MB)
Subscribe: RSS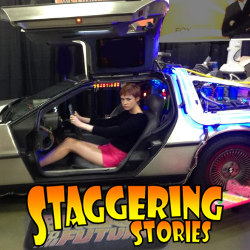 Summary:
Adam J Purcell, Fake Keith, Jean Riddler, the Real Keith Dunn and Scott Fuller review the 1985 classic film 'Back to the Future' and the 1966 Doctor Who story 'The Gunfighters', play a game of Cards Against Humanity, find some general news and a variety of other stuff, specifically:
00:00 – Intro and theme tune.
01:10 — Welcome!
02:46 – News:
02:51 — Star Wars: Timeframe revelations.
05:33 — Ghostbusters: Third film still happening?
08:11 — Football: Matt Smith charity match.
09:39 — Doctor Who: 3rd of April to be International Bow Tie Day.
11:11 — Shatner: 22nd Match is International Talk Like Shatner Day.
13:41 — Arthur Darvill: Now appearing in 'Once the Musical' in the West End.
15:31 – Doctor Who: The Gunfighters.
32:06 – Game: Cards Against Humanity.
38:43 – Back to the Future.
58:01 – Emails and listener feedback.* Hit us yourself at show@StaggeringStories.net
81:34 – Farewell for this podcast!
82:58 — End theme, disclaimer, copyright, etc.
Vital Links: