Podcast: Download (Duration: 1:20:50 — 46.3MB)
Subscribe: RSS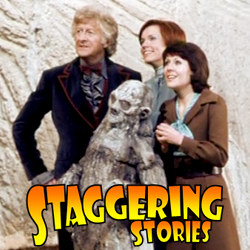 Summary:
Adam J Purcell, Andy Simpkins, Jean Riddler, Keith Dunn and Scott Fuller put their voted for Third Doctor story 'Doctor Who: Death to the Daleks' on trial, reminisce on the 2013 Doctor Who Proms, play some more ripped off games and a variety of other stuff, specifically:
00:00 – Intro and theme tune.
01:01 — Welcome!
01:58 – News:
02:08 — Doctor Who: Moffat promising closure.
04:41 — Doctor Who: IDW losing/dropping comic licence.
08:46 — Star Wars: John Williams is back to score Episode VII.
10:52 — Firefly: Online mobile game coming.
12:42 — Dredd: Official movie sequel petition.
14:32 — Crowd Funding: Big Finish's Cleaning Up and Neil Gaiman computer game Wayward Manor.
17:15 — The Avengers: Big Finish to remake (as audio) the missing episodes of the TV series.
22:36 — Gillan Watch: Galloping slaphead!
25:55 — Accident: Get well Gail Willis!
26:38 – Doctor Who: Trial of a Doctor – The Third Doctor and Death to the Daleks.
40:44 – Game: Connect Four.
45:17 – BBC Proms 2013: Doctor Who.
62:44 – Emails and listener feedback.* Hit us yourself at show@StaggeringStories.net
75:00 – Farewell for this podcast!
75:49 — End theme, disclaimer, copyright, etc.
Vital Links: