Podcast: Download (Duration: 1:31:43 — 52.6MB)
Subscribe: RSS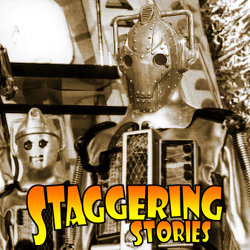 Summary:
Adam J Purcell, Andy Simpkins, Jean Riddler and Keith Dunn put their voted for Second Doctor story 'Doctor Who: The Tomb of the Cybermen' on trial, pit Steampunk against Cyberpunk, play some more ripped off games and a variety of other stuff, specifically:
00:00 – Intro and theme tune.
01:00 — Welcome!
02:01 – News:
02:13 — Doctor Who: Longer 50th Anniversary Special?
04:12 — Arrow: Summer Glau joins the cast.
05:38 — The League of Extraordinary Gentlemen: Soon to be a Fox TV pilot.
08:14 — Doctor Who: Big screen in some US 'movie theatres'.
09:53 — BBC: 3D unit being disbanded after Doctor Who special.
12:09 — Doctor Who: Prince Charles is a fan.
13:42 — Star Wars: $10k merchandise forms part of court settlement.
14:45 — Matt Smith: His first car 'the shed' up for charity auction.
16:06 – Doctor Who: Trial of a Doctor – The Second Doctor and The Tomb of the Cybermen.
31:32 – Game: Missing Vowels.
34:06 – Steampunk vs Cyberpunk.
50:52 – Game: Connect Four.
55:21 – Emails and listener feedback.* Hit us yourself at show@StaggeringStories.net
87:37 – Farewell for this podcast!
88:19 — End theme, disclaimer, copyright, etc.
Vital Links: