Podcast: Download (Duration: 1:17:50 — 44.6MB)
Subscribe: RSS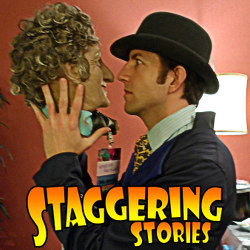 Summary:
Andy Simpkins (back in the studio) and Adam J Purcell, Fake Keith, Jean Riddler and the Real Keith Dunn in Los Angeles, at the Gallifrey One Doctor Who convention, discuss the event, play a game, have a 30 second recommendation, talk with a Radiophonic genius and a variety of other stuff, specifically:
00:00 – Intro and theme tune.
00:50 — Welcome!
01:30 – Game: Tea Duelling.
11:53 – 30 Second Recommendation: 'Eon' by Greg Bear.
12:38 – Gallifrey convention discussion.
31:02 – Post-Gallifrey convention discussion.
56:33 – Dr. Dick Mills.
74:48 – Farewell for this podcast!
75:22 — End theme, disclaimer, copyright, etc.
Vital Links: