Podcast: Download (Duration: 1:35:11 — 54.5MB)
Subscribe: RSS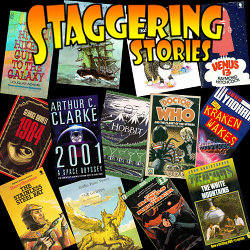 Summary:
Adam J Purcell, Andy Simpkins, Fake Keith, Jean Riddler and the Real Keith Dunn have hopes for the Doctor Who 50th Anniversary, discuss the Science Fiction books of their youths, play a game, find some general news and a variety of other stuff, specifically:
00:00 – Intro and theme tune.
01:10 — Welcome!
03:08 – News:
03:20 — Doctor Who: 7B starts at Easter and Anniversary Special length.
05:09 — Star Wars: J J Abrams directing Episode 7.
09:10 — Alphas: Syfy cancels it, DEAD!
10:37 — Zombieland: Soon to be an Amazon original 'TV' programme.
13:31 — Corin Nemec: Has a little nautical accident.
15:26 — Doctor Who: 'A Big Hand for the Doctor' eBook released.
16:48 — Ted: Sequel for the fuzzy bear.
17:29 – Game: The Unbelievable Truth.
27:08 – Doctor Who: What we hope for in the 50th Anniversary.
43:27 – Science Fiction novels of our youth.
61:02 – Emails and listener feedback.* Hit us yourself at show@StaggeringStories.net
92:44 – Farewell for this podcast!
93:19 — End theme, disclaimer, copyright, etc.
Vital Links: