Podcast: Download (Duration: 1:15:21 — 43.2MB)
Subscribe: RSS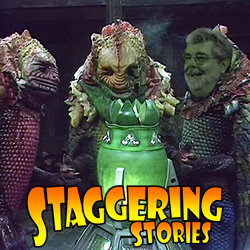 Summary:
Adam J Purcell, Andy Simpkins, Jean Riddler and Keith Dunn discuss one of their Doctor Who birth stories plus Doctor Who: The Visitation, the new Red Dwarf episodes Entangled & Dear Dave and this whole business about Disney buying Lucasfilm, find some general news and a variety of other stuff, specifically:
00:00 – Intro and theme tune.
00:57 — Welcome!
01:47 – News:
01:55 — Doctor Who: Christmas Prequel on Children in Need.
03:44 — Star Wars: Disney buys out George Lucas.
05:50 — Community: Season Four dated on NBC for 7th February 2013.
07:29 — US Presidential Elections: Joss Whedon 'endorses' Mitt Romney.
08:29 — Doctor Who: BBC newsreader dresses as a Sontaran!
09:26 — The Hobbit: Air New Zealand Hobbit safety video.
10:19 — The Colin Baker: Reality TV victim.
12:23 — Doctor Who: Whostrology book now available!
12:47 – Doctor Who: Our birth stories – The Web Planet
16:09 – Doctor Who: The Visitation
33:13 – Star Wars: What does the Disney buyout mean?
48:59 – Red Dwarf X: Entangled and Dear Dave.
59:43 – Emails and listener feedback.* Hit us yourself at show@StaggeringStories.net
69:32 – Farewell for this podcast!
70:10 — End theme, disclaimer, copyright, etc.
Vital Links:
Acquisition Links (Amazon UK):
Acquisition Links (Amazon US):