Podcast: Download (Duration: 1:25:46 — 49.2MB)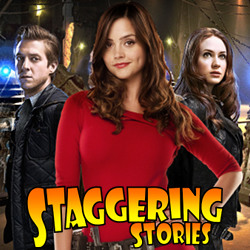 Summary:
Adam J Purcell, Fake Keith, Jean Riddler and the Real Keith Dunn discuss the new Doctor Who stories Asylum of the Daleks and Dinosaurs on a Spaceship, fondly look back at the recent Doctor Who convention Whooverville 4, play some games, find some general news and a variety of other stuff, specifically:
00:00 – Intro and theme tune.
01:11 — Welcome!
02:12 – News:
03:00 — Doctor Who: Another Hugo win, this time Neil Gaiman gets it.
03:46 — Steven Moffat: Twitter quitter.
04:52 — Joss Whedon: His Marvel TV series pilot called SHIELD.
05:47 — Red Dwarf: New series starts on the 4th October 2012 on Dave.
08:00 — DEAD: Michael Clarke Duncan and the legend Neil Armstrong.
09:13 — Jean Riddler: Finished her Olympic duties.
12:21 – Whooverville 4 Doctor Who convention.
20:40 – Doctor Who: Asylum of the Daleks and Dinosaurs on a Spaceship.
46:11 – Extreme Tea Duelling.
51:59 – Emails and listener feedback.* Hit us yourself at show@StaggeringStories.net
83:57 – Farewell for this podcast!
84:16 — End theme, disclaimer, copyright, etc.
Vital Links: