Podcast: Download (Duration: 1:28:20 — 50.6MB)
Subscribe: RSS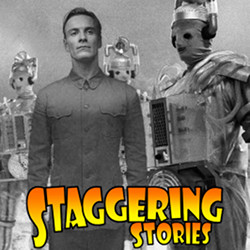 Summary:
Adam J Purcell, Fake Keith, Jean Riddler and the Real Keith Dunn talk about the Doctor Who: The Tenth Planet and Prometheus, have some more Things in Five Words and Just a Minute, find some general news and a variety of other stuff, specifically:
00:00 – Intro and theme tune.
01:50 — Welcome!
02:31 – News:
02:42 — Doctor Who: New companion to remain a mystery?
04:45 — Sanctuary and Dirk Gently: Dead!
07:48 — Planet of the Apes: Sequel of the Rise of the Planet of the Apes named Dawn of the Planet of the Apes.
09:52 — George Lucas: The throat himself is retiring.
11:25 — Barrowman: Bell boating for the Queen.
13:47 — Matt Smith: Smith carries the Olympic Torch in Cardiff.
14:53 — Baftas: Steven Moffat, The Fades and Sherlock's Moriarty, Andrew Scott, win awards.
16:01 – Things in Five Words.
19:06 – Prometheus.
39:17 – Just a Minute.
51:14 – Doctor Who: The Tenth Planet.
71:26 – Emails and listener feedback.* Hit us yourself at show@StaggeringStories.net
83:46 – Farewell for this podcast!
84:22 — End theme, disclaimer, copyright, etc.
Vital Links: