Podcast: Download (39.5MB)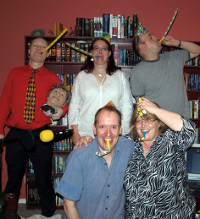 Show summary: Andy Simpkins, Adam J Purcell, Fake Keith, Jean Riddler and the 'Real' Keith Dunn eat cake, talk about their Favourite and Least Favourite bits of Doctor Who, see a Fight Club face off between Old and New Captain Kirks, experience a frightening vision of the future, feel the ire of the Agony Nanny, overindulge in a game of Swanee-Kazoo, find some general news, and a variety of other stuff (especially cake), specifically:
00:00 – Intro and theme tune.
00:49 — Welcome (with celebratory cake)!
06:36 – News:
06:59 — Torchwood: UK Children of Earth ratings (no spoilers!)
08:23 — Heroes: Is Claire going to bat for the other team?
09:39 — View-Master: The Movie coming?
11:07 — T J Hooker: a film in the works? Let's hope not…
13:00 — Hong Kong Phooey: The Movie!
14:38 – Doctor Who: Favourite and Least Favourite Bits.
28:37 – Fight Club: Original Captain Kirk vs. New Captain Kirk.
33:14 – Real Keith presses the Future Podcast button:
33:19 — Intro and theme tune.
33:39 — Welcome!
34:12 — News:
34:24 ——- Doctor Who: New spin-off series confirmed.
35:46 ——- William Shatner: compromise on where his body will be displayed.
37:22 — Doctor Who: Revenge of the Nimon, part 1.
50:20 – Nanny Ireland: The Agony Nanny
51:34 – Swanee-Kazoo: Guess the Theme Tune.
53:36 – Emails and listener feedback.* Hit us yourself at show@StaggeringStories.net
59:04 – Farewell for this podcast!
59:35 — End theme, disclaimer, copyright, etc.
60:19 — Outtakes and a couple of interloping interlopers!
Vital Links: