Podcast: Download (Duration: 1:44:53 — 60.0MB)
Subscribe: RSS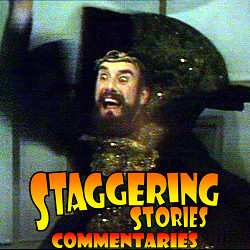 Summary:
Adam J Purcell, Andy Simpkins and Keith Dunn sit down, stupified, in front of the 1979 Doctor Who story, The Horns of Nimon, and spout our usual nonsense!
Romana's screwdriver is more impressive than the Doctor's, the Co-Pilot's flashing his underwear and Soldeed is chewing through the scenery. But enough of their problems, please sit down with us to dissolve your sanity to The Horns of Nimon…
See if you can spot the points where we each lose the will to live!
Vital Links: