Podcast: Download (Duration: 1:21:12 — 46.5MB)
Subscribe: RSS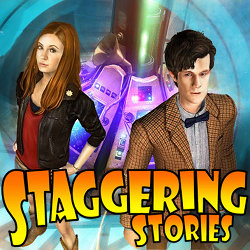 Summary:
Adam J Purcell, Andy Simpkins, Fake Keith and the Real Keith Dunn talk about the third Doctor Who: The Adventure Games – TARDIS, The Deep and Sky One's Pratchett adaptation Going Postal, discover some Escape Pod Discs, find some general news, and a variety of other stuff, specifically:
00:00 – Intro and theme tune.
01:28 — Welcome!
01:47 – News:
02:00 — Doctor Who: 2011 season to be split in two!
07:24 — Doctor Who Live: Nigel Planer heading up the cast.
09:01 — Doctor Who: Evacuation Earth and Return to Earth games announced for Nintendo.
11:05 — Dirk Gently: TV pilot coming to BBC Four.
13:38 — Sherlock: Back in Autumn 2011 for three new adventures.
15:09 — Merlin: Returning to BBC One/HD in September.
19:01 – Doctor Who: The Adventure Games – TARDIS.
29:24 – The Deep: Episodes three and four.
43:49 – Terry Pratchett's Going Postal.
53:22 – Escape Pod Discs: Robert 'Flashing Blade' Learmont.
57:21 – Emails and listener feedback.* Hit us yourself at show@StaggeringStories.net
76:42 – Farewell for this podcast!
89:31 — End theme, disclaimer, copyright, etc.
Vital Links: