Podcast: Download (Duration: 1:32:28 — 52.9MB)
Subscribe: RSS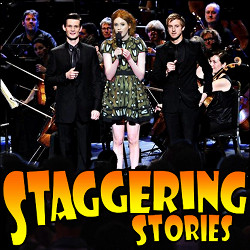 Summary:
Adam J Purcell, Andy Simpkins, Jean Riddler and Keith Dunn talk about the 2010 Doctor Who Prom at the Royal Albert Hall and Sherlock, find some general news, and a variety of other stuff, specifically:
00:00 – Intro and theme tune.
00:41 — Welcome!
01:15 – News:
01:23 — Doctor Who: Moffat reveals how many episodes he's writing for 2011.
03:34 — Doctor Who: Amy's History Hunt open to all in the UK.
06:03 — Battlestar Galactica: New online spin-off series, Blood and Chrome.
08:35 — Doctor Who: New computer game to have a new Dalek and Cyberman voice?
09:22 — Primeval: Alexander Siddig's role revealed.
12:23 — Comic-Con: Bible bashers invade!
14:45 – Doctor Who: 2010 Royal Albert Hall Prom.
40:52 – Sherlock: The first two episodes of Moffat and Gatiss' modern day Holmes.
58:44 – Emails and listener feedback.* Hit us yourself at show@StaggeringStories.net
83:34 – Farewell for this podcast!
84:08 — End theme, disclaimer, copyright, etc.
Vital Links: