Podcast: Download (Duration: 1:03:45 — 36.5MB)
Subscribe: RSS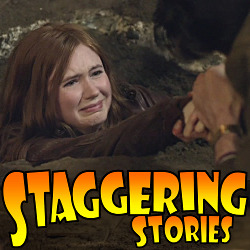 Summary:
Adam J Purcell, Andy Simpkins, Fake Keith and the Real Keith Dunn talk about Doctor Who: 'The Hungry Earth' and the final Ashes to Ashes episode (spoilers ahoy – Life on Mars and Ashes to Ashes finally explained!), find some general news, and a variety of other stuff, specifically:
00:00 – Intro and theme tune.
00:46 — Welcome!
01:34 – News:
01:49 — Doctor Who: BBC Worldwide record profits, thanks in large part to Doctor Who.
03:02 — Randall and Hopkirk (Deceased) to be remade by Syphy Channel.
06:25 — Judge Dredd: More details on new film.
09:56 – Doctor Who: The Hungry Earth.
22:38 – Ashes to Ashes: Season 3, episode 8 – The End.
47:40 – Emails and listener feedback.* Hit us yourself at show@StaggeringStories.net
58:58 – Farewell for this podcast!
59:59 — End theme, disclaimer, copyright, etc.
Vital Links: