Podcast: Download (Duration: 1:37:24 — 55.8MB)
Subscribe: RSS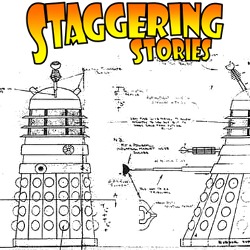 Summary:
Adam J Purcell, Andy Simpkins, Fake Keith, Jean Riddler and the Real Keith Dunn discuss Inspector Spacetime (specifically the Untitled Web Series About A Space Traveler Who Can Also Travel Through Time), play a game of Top Trumps, remember Dalek designer Raymond Cusick and a variety of other stuff, specifically:
00:00 – Intro and theme tune.
01:16 — Welcome!
02:21 – News:
02:31 — Doctor Who: 3D Anniversary Special plus a Christmas Special but nothing more.
05:09 — Being Human & Primeval New World: DEAD!
10:07 — Atlantis: Merlin's replacement named.
11:37 — Dead: Bernard Horsfall, Richard Briers, Elspet Gray and Raymond Cusick.
16:03 – Inspector Spacetime.
28:36 – Game: Top Trumps.
40:29 – Raymond Cusick.
54:46 – Emails and listener feedback.* Hit us yourself at show@StaggeringStories.net
90:32 – Farewell for this podcast!
91:55 — End theme, disclaimer, copyright, etc.
Vital Links: