Podcast: Download (Duration: 2:01:03 — 69.3MB)
Subscribe: RSS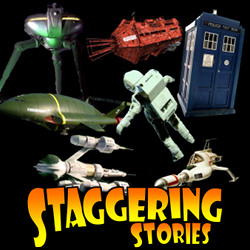 Summary:
Adam J Purcell, Andy Simpkins, Jean Riddler and Keith Dunn talk about their worst TV Doctor Who stories, Science Fiction TV from the past 50 years, find some general news and a variety of other stuff, specifically:
00:00 – Intro and theme tune.
01:23 — Welcome!
02:33 – News:
02:45 — Doctor Who: Big Finish's The Five Doctors.
05:46 — Star Wars: TV series back from the dead?
07:45 — Star Wars: US White House refuses to build a Death Star.
09:09 — William Shatner: Tweeting a real astronaut, in space.
10:42 — William Shatner: Rock guitarist Michael Schenker uses the Shat.
12:32 — Doctor Who: Troughton Yeti production stills discovered.
13:56 — Staggering Stories: Keith spotted by a listener!
17:34 – Doctor Who: Our least favourite stories.
50:00 – Fifty years of TV Science Fiction.
99:04 – Emails and listener feedback.* Hit us yourself at show@StaggeringStories.net
117:20 – Farewell for this podcast!
117:51 — End theme, disclaimer, copyright, etc.
Vital Links: