Podcast: Download (Duration: 55:36 — 50.9MB)
Subscribe: RSS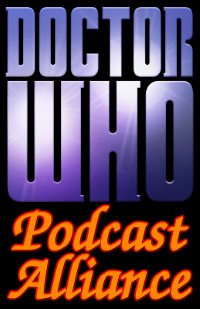 Summary:
Welcome to the eighth Doctor Who Podcast Alliance joint podcast.  This episode was recorded at Fantom Films' Valiant 2 convention in Sheffield, UK.
Our hosts, Martyn of the Bad Wilf Podcast and David Monteith of Geek Syndicate and Time Lore Podcasts, spoil us with numerous great interviews, specifically:
00:00 – Intro and Theme tune.
00:31 – Welcome!
01:11 – At the convention, setting the scene.
02:19 — Writers Joseph Lidster and Simon Guerrier interview.
24:28 — Talking with attendees.
30:52 — Clifford Rose and David Weston interview (Warriors Gate).
35:51 — Roy Spencer interview (The Ark & Fury from the Deep).
43:14 – Sophie Aldred interview.
50:39 – Dexter O'Neill, convention organiser, interview.
55:19 – Closing music.