Podcast: Download ()
Subscribe: RSS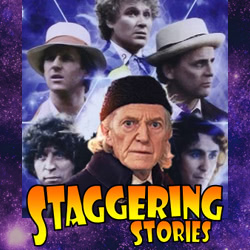 Summary:
Adam J Purcell, Andy Simpkins, Fake Keith, the Real Keith Dunn and Scott Fuller review the 2013 Big Finish Doctor Who 50th anniversary story 'The Light at the End', discuss their visit to the Doctor Who convention 'Science of the Time Lords', find some general news, and a variety of other stuff, specifically:
00:00 – Intro and theme tune.
01:22 — Welcome!
02:46 – News:
02:58 — Torchwood: New full cast boxset, with added Arthur Darvill.
04:20 — Moon: Spiritual successor to Duncan Jones' Moon coming to Netflix.
05:56 — Ursula Le Guin: DEAD!
07:02 — Bella Emberg: DEAD!
07:47 — Jeremy Wilkin: DEAD!
10:24 – Science of the Time Lords, January 2018.
22:38 – Doctor Who: The Light at the End.
33:30 – Farewell for this podcast!
34:55 — End theme, disclaimer, copyright, etc.
Vital Links: