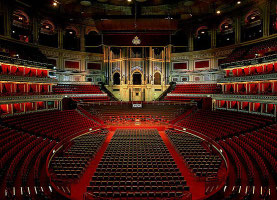 Just a quick note to anyone out there how may be interested. Some of the Staggering Stories team will be attending the Royal Albert Hall Prom number 13 (Music from Doctor Who) this Sunday (27th July 2008)!
I am greatly looking forward to it. We missed out on getting tickets to the Cardiff event a couple of years ago but this time we've managed to wrangle it somehow (or was it just plain luck?!) I will be there in a Staggering Stories T-Shirt (dress code permitting!) and I hope at least one other of our number might do the same (hint, hint!) If you see us wandering around like idiots (we know no other way) then feel free to accost us and say hi (but not HAI! in Pertwee fashion, please!)
Expect a full report of goings on (including talk of that scene filmed by Tennant especially for the event) in the next podcast and probably in a more considered way by form of a written article to appear in the end of August main site update (see main site www.StaggeringStories.net).
We hope to see you there!