Podcast: Download (Duration: 1:06:59 — 38.4MB)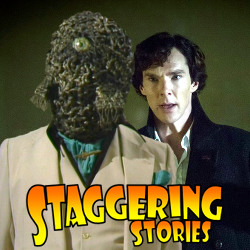 Summary:
Adam J Purcell, Andy Simpkins, Jean Riddler, Keith Dunn and Scott Fuller review Doctor Who: The City of Death and the Sherlock episode 'His Last Vow', play a game, find some general news and a variety of other stuff, specifically:
00:00 – Intro and theme tune.
00:59 — Welcome!
03:14 – Doctor Who: The City of Death.
20:05 – Trivial Game and Paranoid Pursuit.
26:27 – Sherlock: His Last Vow.
43:48 – Emails and listener feedback.* Hit us yourself at show@StaggeringStories.net
63:37 – Farewell for this podcast!
64:10 — End theme, disclaimer, copyright, etc.
Vital Links: