Podcast: Download (Duration: 7:20 — 10.1MB)
Subscribe: RSS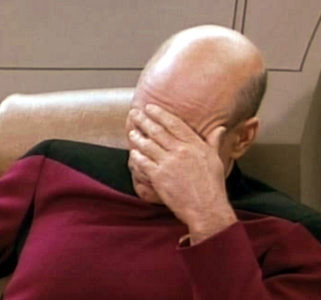 That glutton for punishment, Captain Jean-Luc Picard, brings his Secret Log up to the beginning of the second year of their grand voyage.
Staggering Stories and the Flashing Blade Podcast are proud to bring you  Tim Munro's The Secret Log of Captain Jean-Luc Picard:
Of all the mysteries which have troubled the scholars of the history of the United Federation of Planets Starship 'Enterprise', none has proved more mystifying than the disappearance for a whole year of Chief Medical Officer Beverly Crusher. Until now, the exact reasons for her absence have been unknown. However, newly discovered documents, which recently fell though a timewarp from the 24th century, throw staggering new light on the whole affair, and suggest that our entire picture of 24th century life may have to be reassessed. What follows is an exact translation of this exciting and shocking discovery…
Originally appearing the the fanzine Star Begotten, in October 1989, then migrating to Private Lives, as run by a certain Siobhan Gallichan and then finally reprinted on the Staggering Stories website. Later episodes will be committed to audio in time but if you'd wish to read the other episodes now then they can be found at: http://www.StaggeringStories.net/secretlog.html.
A big thank you to Siobhan Gallichan for performing the narration and production and, of course,  Tim Munro for allowing us to bring this to you.
Warning: There is some strong language in this MP3 (but then Picard never did mind his French).