Podcast: Download (Duration: 1:29:44 — 51.4MB)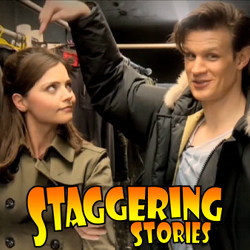 Summary:
Adam J Purcell, Andy Simpkins, Fake Keith and the Real Keith Dunn discuss the Doctor Who Christmas 2012 Prequel – The Great Detective and the new Red Dwarf X episode The Beginning, play a game of Things in Five Words, find some general news and a variety of other stuff, specifically:
00:00 – Intro and theme tune.
00:45 — Welcome!
02:58 – News:
03:22 — Doctor Who: Kingston reads The Angel's Kiss.
04:08 — The Tomorrow People: US Network wants to resurrect ITV children's TV series.
06:54 — SHIELD: Two Brits added to Avenger's Assemble spin-off TV series.
08:12 — Battlestar Galatica: Blood and Chrome web series out now.
10:41 — Star Trek: Daily Mail denies Barrowman's bottom.
11:25 — Podcasting: Fellow podcaster Ken Deep, of Podshock, has heart attack but is now okay.
12:09 — Doctor Who: Amy and Rory in real 1950s painting?
14:05 — Doctor Who: John Lewis snowman advert – are they Weaping Angels?
15:07 – Doctor Who: Children in Need Christmas 2012 Prequel – The Great Detective.
26:56 – Things in Five Words.
36:36 – Red Dwarf X: The Beginning.
48:47 – Emails and listener feedback.* Hit us yourself at show@StaggeringStories.net
85:57 – Farewell for this podcast!
86:32 — End theme, disclaimer, copyright, etc.
Vital Links:
Acquisition Links (Amazon UK):