Podcast: Download (Duration: 42:33 — 24.4MB)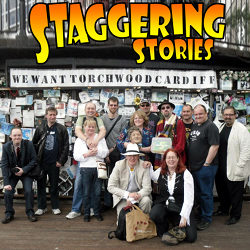 Summary:
Adam J Purcell, Andy Simpkins, Fake Crumbly, Fake Keith, Jean Riddler and the Real Keith Dunn with special guests Luke Harrison and Siobhan Gallichan play the Doctor Who Trivia Smack Down Quiz, indulge in a very personal Fight Club, find some general news and a variety of riotous live behaviour (NOTE: with some bad language!), specifically:
00:00 – Intro and theme tune.
00:49 — Welcome!
02:39 – News:
03:05 — Doctor Who: Caroline John – Dead!
04:46 — Staggering Stories: We invaded Cardiff – Live!
06:68 – Doctor Who Trivia Smackdown.
35:55 – Fight Club: Jean vs. Fake Keith.
37:57 – 30 Second Recommendation: Kate Griffin's The Minority Council novel.
41:12 – Farewell for this podcast!
42:03 — End theme, disclaimer, copyright, etc.
Vital Links: