Adam J Purcell
on November 8th, 2007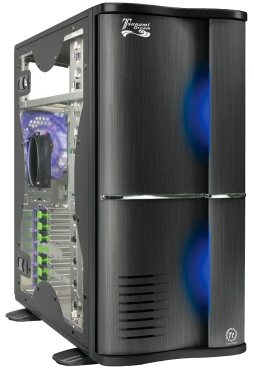 Firebat is under construction as I type. Firebat? Yes, that's the name of my shiny new computer. My first new desktop machine in a good four years or so (Mac Mini not counting, as that's really just a web terminal in the living room and a chance to play with PowerPC based Linux).
Why Firebat? I try to name my computers after things from some of my favourite old computer games. First there was my Atari ST, named Benson – after the sarcastic computer from Paul Woakes' amazing Mercenary games of the era. Then came the Atari Falcon, named Benson 2, aka Benson Junior. My first PC, in about 1997, named Benson 3 – can you see a theme here? Benson 3 is still in use today, as my IPCop firewall, but now named Jameson, after Commander Jameson from Elite. Benson 4 was originally a Pentium 2 machine, my first home built machine, but has seen so many upgrades over the years that about the only remaining original parts are the case and floppy drive (and name!) Benson 4, aka B4, is still in good use as my secondary desktop machine and also running Ubuntu Studio to record the podcasts. Benson 5 is, for this second at least, my primary desktop. B5 is the last of the Benson computers. That's for no other reason than as a reference to Babylon 5 – the last of the Babylon stations. My two laptops are named after Myst objects, the latest being called Kormahn. Finally, my home server is called Threepwood, after Guybrush from the Monkey Island series. There are other machines but they have boring names like Mac Mini and Zaurus. Yes, my electricity bill can be a little high…
I still haven't explained Firebat, though, have I? I needed another classic game from my past. Something I spent far too much time playing. There are a good few but not many suggested a decent name for a computer. Populous? Civilisation? Quake? Diablo 2? Hardwar? Evil Genius? Black and White? Tomb Raider? None of those leapt out at me as a source for the name. I didn't want to call my computer Lara Croft! How about Warcraft 2 or 3? Nah, I wanted something more Sci-Fi. StarCraft! Of course! Kerrigan? Protoss? No. Firebat – yes. A silly sounding name but I took an instant shine to it!
So, Firebat is still installing. Windows XP – this is as much, if not more, a gaming machine than anything else. I considered Vista but there appears little or no benefit to DirectX 10 right now, the only possible reason to consider the appalling bloat that is Longhorn. I've also got Fedora 8 being torrented down right now, another few hours to go. Coincidentally, Fedora 8 was just released today – perfect timing for dual booting on Firebat.
For the statistics interested people out there, this new machine is running an MSI P35 Neo motherboard, an Intel Core 2 Duo E6750 CPU, 2GB of DDR2 800Mhz RAM, a 500GB SATA HDD and (my favourite bit) a BFG nVidia 8800 GT OC (512MB). I wasn't sure if that graphics card would hold up the order a few weeks as these new 8800 GT cards are THE card of the moment, high end performance for mid range price. They are selling out quicker than they get in stock at the moment. I got very lucky! I look forward to testing this machine with 3DMark and the like. It should put B5 to shame!
I should also point out that this machine being bought/constructed was not influenced by the Dunn's recent purchase of a new machine. Really. I just got fed up with B5 freezing up two or three times an evening while I was playing World of Warcraft. Probably just an underpowered PSU, given all the drives I've got inside it now, but it was time for an upgrade anyway! Once Firebat is up and running I may fiddle around with B5 and may well end up fixing it. In the meantime I'll have something a little speedier and, hopefully, rather more stable!
"Need a light?"